CAD and CAM integration
OCTOPUZ software is compatible with multiple CAD file types and CAM systems, enabling users to import their specific cell environment into the virtual space, making it easy to program paths onto parts and create the code for your industrial robots.
PathImporter
On importing a CAM path into OCTOPUZ, PathImporter automatically attaches your part to the workpiece positioner and systematically positions it so it has a reachable starting point.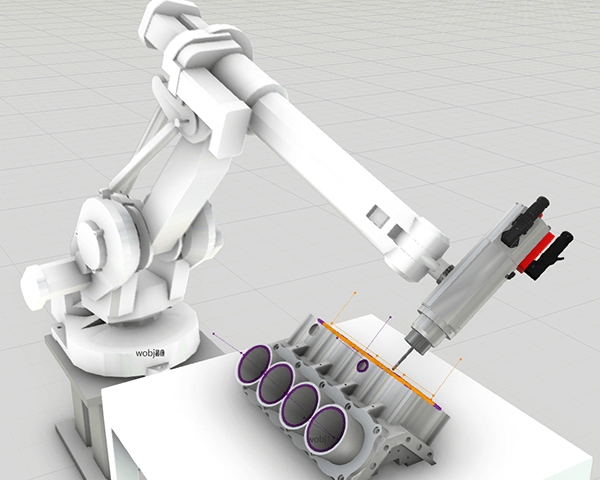 Autodesk, 3D Studio Max
Formatted Autodesk
Standard ASCII Text
Standard ASCII Binary
Autodesk Inventor
Drawing
AutoCAD Binary
AutoCAD Format
Catia
Catia Drawing File
Catia Part File
Catia Graphical Representation
3D file
Assembly File
AutoDesk
AutoDesk Part
AutoDesk / GrabCAD
Industry Foundation Classes
GrabCAD
AutoDesk / AutoCAD
AutoDesk Package
Graphics Exchange Specifications
AutoCAD
Jupiter Tessellations (Open CAD)
Parasolid Binary Format
Parasolid
Parasolid Geometry File
Parasolid Document
Product Representation Compact
Rhino CAM
CAD
Assembly File
AutoCAD – Solid Edge File
AutoCAD
Solidworks Assembly
Solidworks Part
Step File
Stereolithography
Part
Universal 3D File
Verband der Automobilindustrie
GeoVRML, VRML
3D Object

Cell Design
With an extensive component library containing thousands of robotic and automation parts, OCTOPUZ makes it easy to design and build a virtual manufacturing cell in a 3D environment. The components are designed to be dragged, dropped, and snapped into place to quickly build complex systems with pre-made logic.
Multiple robots
Program, simulate and generate code for multiple robots, simultaneously, with support for many robot brands in any configuration.
Complex kinematics systems
Not limited to 6-axis manipulators, OCTOPUZ can simulate 3-axis scara robots up to 7-axis manipulators, along with external axes like linear rails and rotaries, as well as conveyors, feeders and more!
Most robot brands supported
15+ brands supported with a regularly updated library.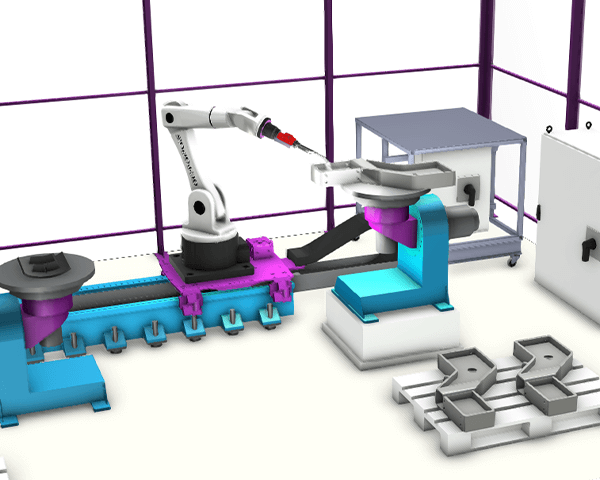 KUKA
FANUC
Yaskawa / Motoman
ABB
Panasonic
Kawasaki
Mitsubishi
Toshiba
Cloos
Denso
Nachi / OTC
Staubli
Greatoo
Universal
Path Planning
Creating robot toolpaths is simple in OCTOPUZ. With only a few clicks, toolpaths and robot movement can be programmed locally in OCTOPUZ.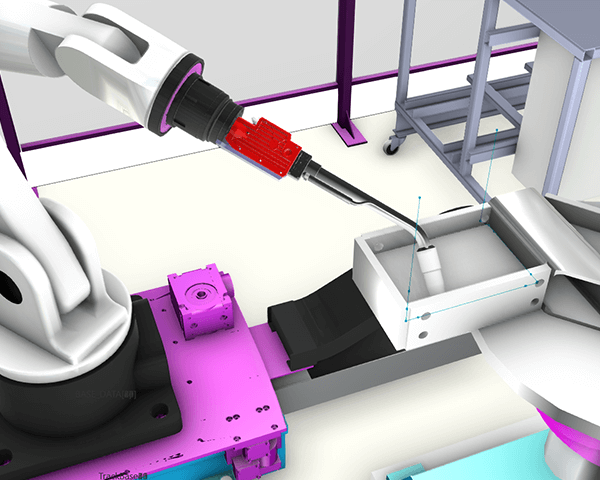 PathFinder
OCTOPUZ PathFinder is a suite of tools designed to automatically identify the optimal toolpaths for industrial robots and their wide range of end-of-arm tools. Pathfinder simplifies the programming process by analyzing, autoconfiguring and collectively updating toolpaths with only the click of a button. The PathFinder suite of tools includes:
PathAnalyzer
Programmers can use PathAnalyzer to review imported CAM toolpaths and evaluate the robot trajectory through a detailed report on any singularities, joint limits, unreachable points, and collisions. No need to conduct timely simulations.
PathSolver
With just one click, PathSolver automatically analyzes and solves imported CAM toolpaths as well as toolpaths that have been created locally in OCTOPUZ, and automatically makes the calculated toolpath changes void of singulartities, joint limits, unreachable points and collision errors.
PathSolver also offers improved path fluidity by automatically identifying the keystone postions to place Reference Points. This positions the end of arm effector in the most favourable position to not only aid in resolving the toolpath but also providing a smoother operation throughout the fabrication or welding process.
QuickSimulator
With the QuickSimulator tool, programmers are presented with a simulation of the points leading up to and preceding the error, enabling quick resolution.
PointSolver
PointSolver gives programmers the option to focus on solving a specific point within the toolpath instead of solving an entire path or program, saving valuable time when resolving the final program that will be loaded on to the robot controller.
ReferencePointSolver
For anyone wanting to solve their toolpath manually, the ReferencePointSolver tool can be used to examine the geometry of the part and automatically place Reference Points at the peripheral regions of the X, Y and Z axis, aiding programmers in defining their preferred toolpath.
External Configurator
ExternalConfigurator ensures an accurate representation of the real world cell in the virtual environment by analysing and identifying path characteristics to programmatically determine and configure an ideal external axis solution to make the part reachable. This includes rotary and head/tail stock part positioners as well as robot positioners like gantries or rails.
Simulation
OCTOPUZ's simulation capabilities provide the foundation for error-free paths to be created.
The virtual cell is so realistic, it can be used by manufacturers and integrators as proof of concept
to validate their automation ideas.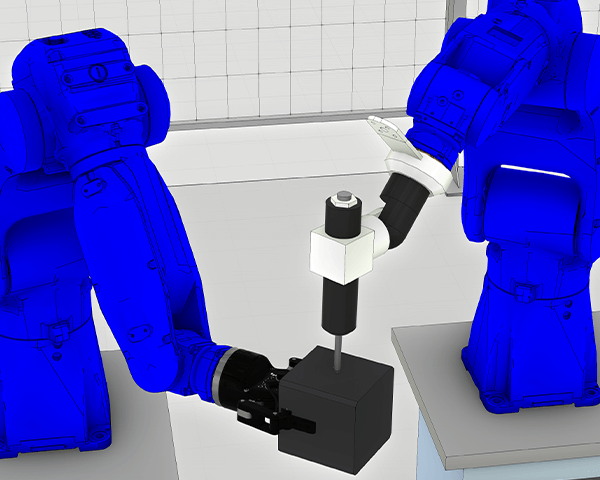 Post Processing
Program code generated from OCTOPUZ can be input directly into the robotic controls. Advanced post-processing capabilities ensure accurate conversion of the program code to the robot brand's language.
Most robot brands supported
15+ brands supported with a regularly updated library.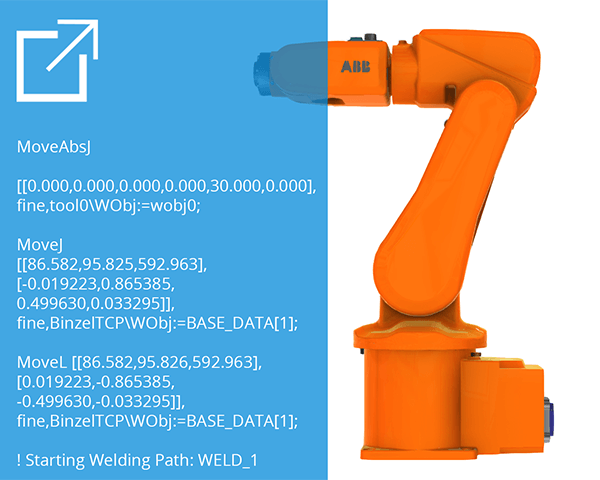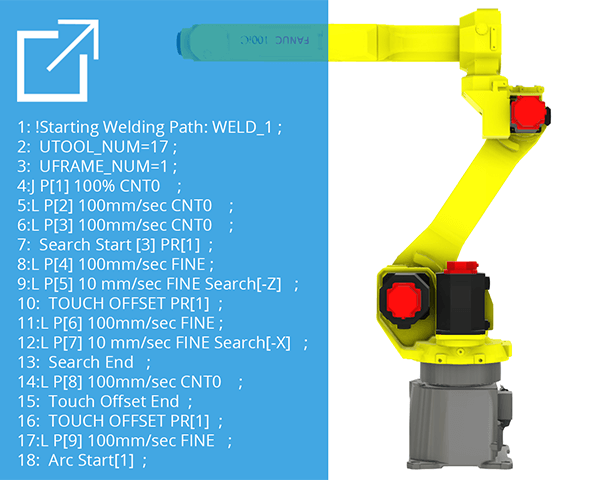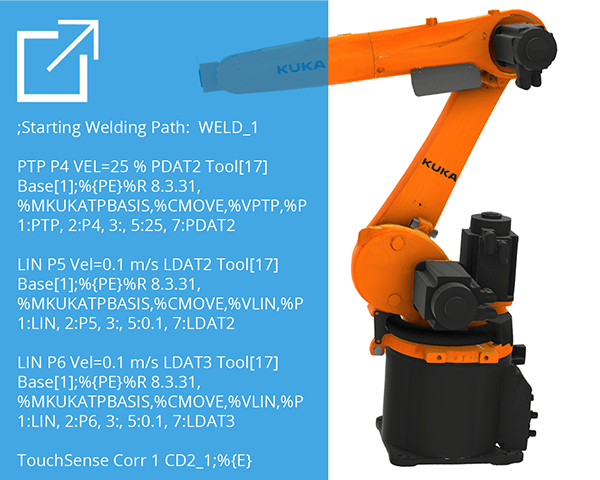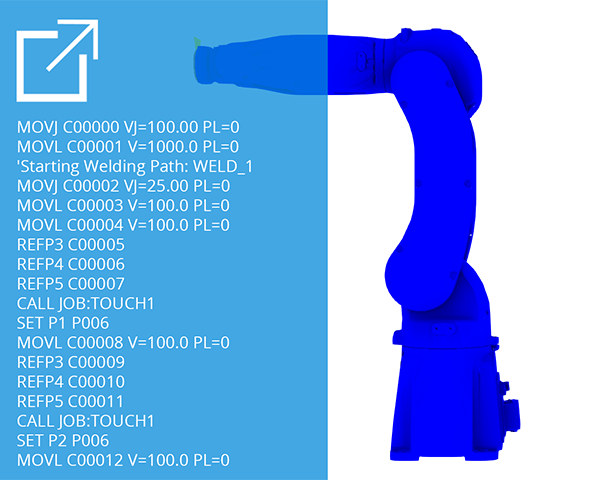 KUKA
FANUC
Yaskawa / Motoman
ABB
Panasonic
Kawasaki
Mitsubishi
Toshiba
Cloos
Denso
Nachi / OTC
Staubli
Greatoo
Universal