Working with Robots?
Program them easily with OCTOPUZ Robot Software – see how at FABTECH Canada, booth 1500!
FABTECH Canada 2016
March 22 – 24
Toronto Congress Centre
Booth #1500
You'll see our KUKA robot with a Lincoln Electric welding head at booth #1500 where it will be tracing a welding path and showing off touch-sensing functionality – all programmed with OCTOPUZ. From our technical support team to our sales representatives, we'll be there to discuss how OCTOPUZ can help your business save time and money. Bring us your questions and challenges!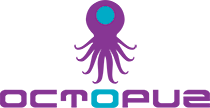 OCTOPUZ is intelligent offline robot programming and simulation software capable of:
• Easily programming, synchronizing and simulating multiple robots with their accessories
• Programming and simulating the complete process including machinery
• Directly supporting paths from your favorite pathing system
• Offline robotic cell development and machine tending such as the loading and unloading of parts
Other applications that OCTOPUZ specializes in includes:
Fabrication – Welding, Plasma Cutting, Laser Cladding
Edge Following – Deburring, Laser Cutting, Trimming, Waterjet
Material Removal – 2D Machining, 3D Multi-Surface Machining, Remote Tool Center Point, Simulated Tool/Head Changes
Simulation – Component Communication, Machine Tending, Multiple Robots, Pick & Place, PLC, Shop Floor Layout
Additive – Composite Lay-up, Dispensing, Painting, Spraying, Welding
---
We look forward to seeing you at FABTECH Canada